by Walt Grudi, President, Grudi
Community Action Partnership (CAP) (link: www.caplanc.org) discovered that Lancaster Chamber offers its Members Grudi Advantage (link: www.grudiadvantage.com), a comprehensive Mobility, Telecom & IT program benefiting Members and the Chamber itself. Lancaster Chamber partners with Grudi, a leading Mobility, Telecom & IT in Central PA and beyond to deliver these services. CAP was in need of Mobility assistance, making Grudi Advantage an ideal partner.
The Community Action Partnership is Lancaster County's largest anti-poverty organization, offering an array of services that interrupt inter-generational poverty and assist families at every age and place in life. CAP offers ten highly successful programs that fall into four main categories: Education & Childhood Development, Household Stability, Health & Nutrition, and Safety & Empowerment. CAP leadership understood that optimizing and coordinating numerous programs and services with many moving parts required a more robust, efficient and cost-effective Mobility solution. Grudi Advantage could provide the capabilities and advantages it needed.
View the complete case study. (link: https://grudiassociates.com/grudi-advantage-cap-case-study)
THE CHALLENGE
While Grudi Advantage offers comprehensive Managed Mobility, Managed Telecom & Managed IT solutions, Mobility issues were CAP's highest priority. The Grudi team performed analysis to identify CAP's challenges, such as:
Lacking an efficient, effective Mobility management system.
Significantly over-paying for Mobility services.
Having many unused lines & devices creating unnecessary cost and confusion.
Managing and paying for multiple Mobility accounts.
Lacking a good inventory of lines and devices.
Insufficient invoice management, hindering cost allocation to proper accounts.
Lacking appropriate Mobility Cybersecurity.
CAP staff spending too much time on Mobility issues, distracting from core issues.
And more.
THE SOLUTION
To address CAP's Mobility challenges, the Grudi team did the following:
Implemented Grudi Advantage's comprehensive Managed Mobility solution.
Completed a Mobility inventory & needs assessment – plans, devices, systems & more.
Identified & eliminated unused and unneeded lines & devices.
Merged three separate Mobility accounts into one.
Established and fully managed device ordering/procurement, onboarding, offboarding, inventorying and device management.
Began managing invoices and providing proper coding for the right programs.
Provided expert helpdesk & troubleshooting assistance to CAP team members.
Developed & helped implement better Cybersecurity practices & monitoring.
And more.
THE RESULTS
Grudi Advantage has significantly improved the quality, efficiency, and cost-effectiveness of CAP's Mobility services, including:
CAP now has an effective Managed Mobility solution in place, saving much time, money, and stress, while improving its functionality.
CAP is enjoying an average monthly savings of $6,695, had savings of $52,335 since program implementation, and will save over $80,000 in 2023.
CAP's original 380 lines were reduced to 217, saving cost and adding efficiency.
Mobility plans have been, and continue to be, reviewed and optimized, saving CAP cost and delivering the best, most appropriate service for its needs.
Lines and devices are inventoried and assessed on a regular basis, and unused devices are wiped and reassigned or sold through Grudi's buy-back partner.
Invoices are being managed by Grudi to ensure charges are correct and properly coded to the right departments and programs.
Grudi's help desk and troubleshooting are eliminating frustrating issues and problems and saving time for CAP staff.
Procurement, onboarding and offboarding systems are fully managed by Grudi.
In addition to these, CAP is receiving the many other benefits of Lancaster Chamber's Grudi Advantage program. Among these are: special low rates on many services, annual cash-back dividends, expert Mobility, Telecom & IT assistance, cost savings from service optimization and much more.
"We are a diverse agency with many programs and services that require skilled and continuous coordination. This includes our Mobility services and devices. We recognized that we did not have the internal bandwidth and capabilities to get the most out of our Mobility services and investment. Lancaster Chamber's Grudi Advantage program was exactly what we needed. We've saved very significant time and money, while improving our functionality and eliminating a stress point for our staff. We are delighted with the outcome and look forward to continuing our ongoing relationship with Grudi and Grudi Advantage. They have our highest recommendations." – Angie Lightfoot Roth, CFO, Community Action Partnership (CAP)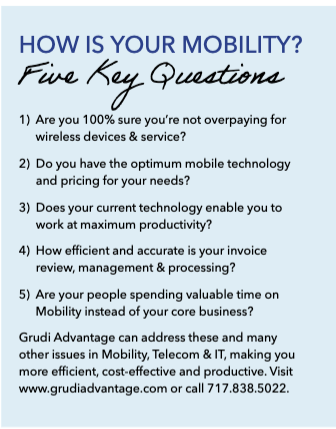 Walt Grudi
President
Grudi
wgrudi@grudiassociates.com
This article was first printed in our Spring/Summer 2023 Edition of Thriving Magazine. You can read more here: Lancaster Chamber Thriving Magazine
not secure