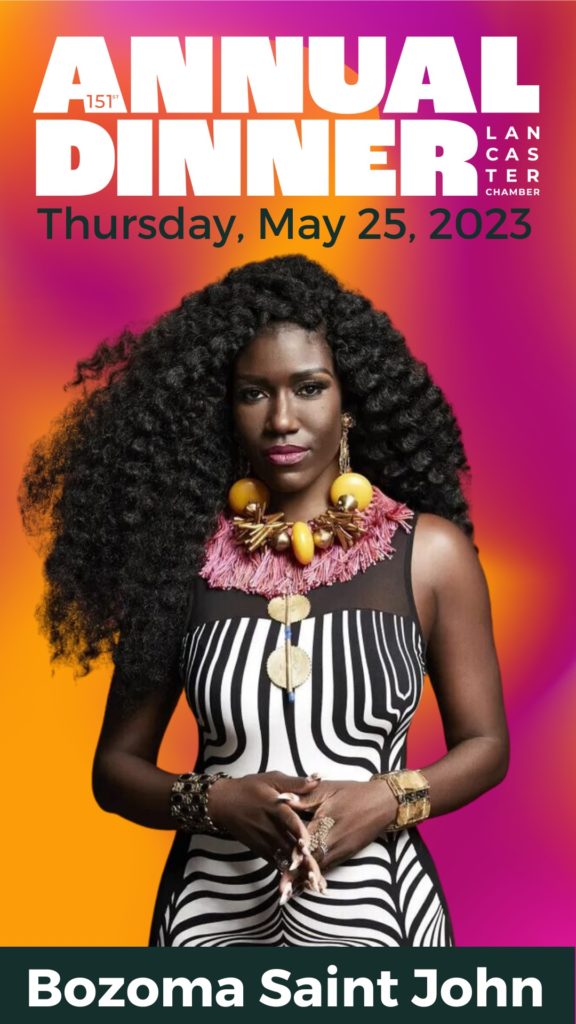 The Lancaster Chamber is ready to host the 151st Annual Dinner experience – a stellar display of celebration & inspiration – bringing together Lancaster's local leaders to celebrate business' impact on Lancaster County's success.
The Chamber is thrilled to announce the 151st Annual Dinner Speaker is Bozoma Saint John.
"Bozoma's resume speaks for itself. She's been an executive at some of the world's most recognizable companies; she's an innovator, a risk taker, and she lives her life with unmatched authenticity. As we lean into the next 150 years of business in Lancaster, we couldn't have a better speaker to share her perspective on this year's theme – boldly moving forward."

Boz got her start in her marketing career at Spike Lee's ad agency, SpikeDDB. She then went on to manage brands in the PepsiCo beverages portfolio, before becoming Head of Music and Entertainment Marketing at the Industry Giant. After that, she led Global Consumer Marketing at Apple Music & iTunes; before serving as Chief Brand Officer at Uber; she then took on the Chief Marketing Officer role for Endeavor (including WME, IMG, UFC, Miss Universe, 160over90, etc.). Mostly recently, she served as the Global Chief Marketing Officer at the entertainment behemoth, Netflix.
Boz's work has been lauded and awarded by the industries she's operated in, including induction into the American Marketing Association Hall of Fame (2022), following induction into the American Advertising Federation Hall of Achievement (2014). Boz is currently named as the #1 Most Influential CMO in the world by Forbes (2021). She's also been inducted into Billboard's Women in Music Hall of Fame after making their list of the "Most Powerful Women in Music" for 10 consecutive years (2013-2022) and crowned as the Executive of the Year (2016). She's been featured on the cover of Adweek as "one of the most exciting personalities in advertising;" and is on lists ranging from The Hollywood Reporter's "Women in Entertainment Power 100" (2018) to Fast Company's and Ad Age's "Most Creative People" to Ebony's "100 Powerful Executives," Black Enterprise's "Most Powerful Women in Business" and Fortune's "Most Influential CMOs."
In 2021, Harvard Business School published a multi-media case study on her career, titled "Leading with Authenticity and Urgency"; through which she developed and taught a program at the University aptly named "The Anatomy of a Badass." Boz has expanded her service outside of the US and been named as an Ambassador for the African Diaspora and Special Envoy to the President of Ghana. Boz serves on several Boards including Girls Who Code and the Council of Fashion Designers of America.
Lancaster business leaders are defining the future, driving bold and essential innovation across the county, and elevating our impact on the world. Ready to take on the challenges and opportunities facing our community, businesses and employers have the responsibility to set the rhythm – seizing today to lead us forward tomorrow.
The Annual Dinner provides the opportunity to uplift this message, inspire our attendees into action, and affirms Lancaster as the best place to do business. We hope you will join us in this celebration and help to support the Lancaster Chamber as we work, collectively, to BOLDLY MOVE Lancaster forward.
The 151st Annual Dinner will be held on Thursday, May 25 at the Lancaster County Convention Center from 4pm -9pm.
Tickets are on sale now and include a networking reception, dinner, and awards program, and keynote conversation. Learn more at www.lancasterchamberannualdinner.com.
Learn more about Bozoma Saint John at https://www.bozomasaintjohn.com/about.
DETAILS FOR YOUR CALENDAR:
Annual Dinner, May 25, 2023, 4pm – 9pm, Lancaster County Convention Center
TICKET SALES TIMELINE:
Member Exclusive Sale: Monday, March 13th at 8:00am
General Ticket Sales: Open, Monday, March 27th until sold out!
not secure